On the first day of Christmas, my budget gave to me… not a whole lot of money for marketing.
Small businesses don't always have big dollars to promote their brand but don't break out the "bah humbugs" just yet.
We've updated our 12 Days of Merry Marketing Tips that any company can do with a lean and mean budget.
It's our early gift to you.
Use the Right Tools for Digital Marketing
You probably have enough on your plate, so why make your life more difficult. Streamline your efforts and improve your content with the right digital marketing tools. 
To get you started, we listed six digital media marketing tools that we like. And if you don't feel like digital marketing is something you want to handle all by yourself, we recommend these pros to help you get the job done.
Video
You don't need a staff videographer to make video a part of your marketing strategy anymore. All you need is a cell phone and a little creativity. Nothing proves this more than the fast rise of the super-popular app TikTok.
Not all videos need to be cinematic masterpieces. A quick shot on your cell phone is all you need these days.
Facebook and Instagram both offer the ability to create live feeds that allow you to interact in real-time with viewers.
As we head into 2021, definitely keep video marketing on your to-do list.
Content Marketing
Are your messages aligned across all marketing channels, be it print, email or your website? Do you know what you want to tell your consumers?
Get your content strategy in check! Content marketing isn't just copywriting. Content also includes graphics, images and videos. Find out why content marketing is so effective.
Create Compelling Website Copy
When you are writing for the web, you're not only fighting to keep the attention of your reader, your end goal is to convert them to a customer. There is a lot of competition on the web, so make sure your copy stands out.
Make Your Life Easier By Repurposing Content
Not everyone has a huge staff to generate large amounts of content for blogs, emails, social media. And that's OK. There are many benefits to repurposing content.
Save time. Save resources. Save money.
And just to get you started, here are five ways you can repurpose your content.
Get Visual
This could/should be a part of your content strategy. We live in a visual world and the raging success of Instagram is proof positive. Start telling your story through images.
SEO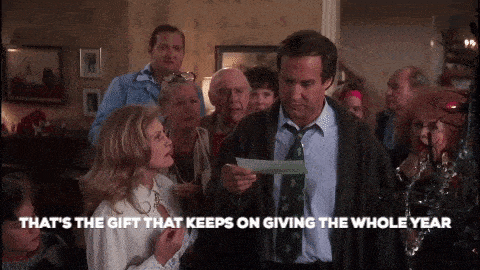 This guy isn't going away anytime soon. Search Engine Optimization. The benefits of SEO for your business are plentiful. You don't have to be an SEO ninja-guru-rock-star-wizard in order to implement some basic SEO techniques.
Brand Ambassadors
Nobody can tell the story of how your company or product helped them more than your customers. Ask your customers who've had a good experience to share their stories, whether it be in a post on their Facebook page or a testimonial video posted to your website.
This brings us to our next Merry Marketing Tip!
Online Reputation Management
Poor Bumble. He was so misunderstood. But in the end, the Abominable Snowmonster ended up being kind of a great guy. He just had a bad reputation. And they didn't even have the Internet to spread the word in those days.
The ability to spread the word about businesses far and wide can be a double-edged sword. There are a plethora of online review sites for consumers to voice their likes and dislikes at the click of the mouse.
From Facebook to Yelp to Google, your brand is being talked about, whether you like it or not. Take some time to "listen" to what your customers are saying. Make online reputation management a priority. 
Many review sites provide ways for businesses to follow up with reviewers. By doing this, not only are you showing the customer with the not-so-positive review (and anyone who stumbles upon the review) that you hear their concerns, but that your company values their input and cares.
Email Marketing
Neil Patel says "An effective email marketing strategy converts prospects into customers, and turn first-time buyers into recurring customers."
Email is part of any good marketing strategy. There are so many tools available to make email marketing easy and accessible that your company should definitely be doing this.
Be sure to include relevant subject lines, good content, and keep the message simple – no need for an epic novel here. And don't be SPAMmy.
Google My Business
If you're a business owner, you'll want to make sure you're taking advantage of all the benefits Google My Business has to offer.
Business owners can use it to claim or create accounts. And the listing provides key facts about your business, like your address, website address, hours of operation, and oh so much more. In 2020, many updates were made to the Google My Business platform to give businesses more ways to display information for customers.
Get this set up and you'll be dancing like Carleton in no time.
Sponsor an Organization or Support a Cause
Sponsoring an organization or cause can increase your visibility in the community and provide positive publicity, while also helping show that your company isn't a big fat Grinch.
Sponsorships are great marketing investments and don't always have to blow the budget.
Have the merriest of holidays and a very happy New Year to you from the team at Authentic Web Solutions.