Google My Business has long been a reliable source that people look to for information about businesses on the web. So unsurprisingly, the innovative hub that is Google adapted this product to meet the current communication needs of businesses during the pandemic.
You've probably seen some of these updates and don't even realize it. But it's worth taking a deep dive into what's been done.
That's why we're breaking down what Google My Business has changed over the last few months since the pandemic took hold in the US, starting in March.
READ: Your "Google My Business" Listing Is More Important Than You Think It Is
March 9, 2020 – Businesses affected by COVID-19: Provide customers with updated info
This was more of an update than a new product launch, but it signals the beginning of Google My Business seeming to understand that changes would need to happen for businesses to fully leverage the listings during this time.
Google My Business—sometimes abbreviated as GMB—started encouraging businesses to update their information to let customers know how they had been affected by COVID-19.
With all the uncertainty about what was actually open, what was closed, who was delivering, etc., this was, and still is, a key spot for business clientele to reference – especially since many people see Google My Business listings before even visiting a company's website.
The information shows up on your Google My Business Profile, Google Search and Google Maps. Here are the steps to take to provide your customers with the latest information about what's going on with your business.
March 25, 2020: Google My Business for Healthcare Providers
March 26, 2020 – The Ability to Communicate COVID-19 Business Operation Changes
This update gave businesses the ability to create COVID-19-specific posts that address:
Hours of operation
Temporary closures
Changes to how the business operates (ex: takeout or delivery instead of dine-in)
COVID-19 Safety and Hygiene Updates
Requests for support
Google also made this information easy to find for customers by giving it prominence. They added a standalone carousel below the business info so that this information stands out a bit more.
April 2, 2020: Food Businesses Affected by COVID-19
The restaurant industry was hit hard by the pandemic and still hasn't recovered.
This April 2 update allowed food businesses affected by COVID-19 to update their Google My Business profile to provide the most accurate information to customers.
For example, easy changes to hours of operation can be made. Prominent listing of attributes like takeout and delivery can also be featured. This information also shows up on restaurant industry business profiles on Google Search and Maps.
April 6, 2020: Retail Stores Affected by COVID-19
Retail had to start doing things a little differently during the pandemic, so this update was geared toward helping them communicate that information on their profiles.
For example, stores were encouraged to change their hours of operation if they were closed or, are closing early. Pick up and delivery times info could now also be included in the listing.
May 13, 2020: Set More hours
Businesses can now set additional hours for special features and services. For example, delivery, drive-through and pickup times could be listed to better detail the specifics to customers (see the Sonic Drive-In examples below). Learn how to set More hours.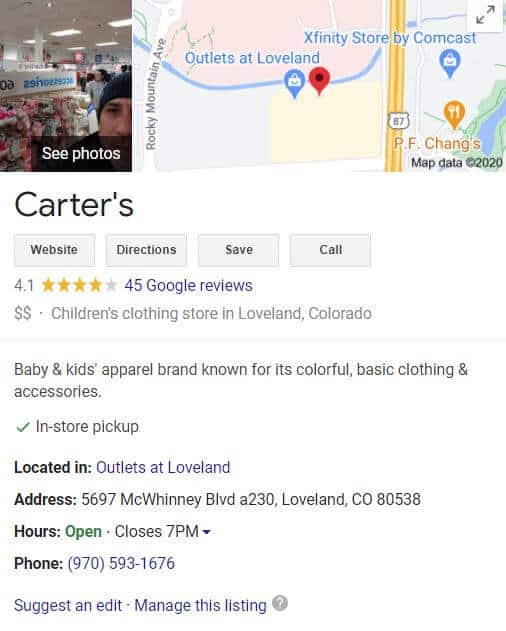 August 13, 2020: Update Your Business Profile Directly From Google Search or Maps
To make things as easy as possible for business, Google added functionality that allows users to make certain updates directly from the Business Profile on Google Search and Maps. These updates let businesses:
Edit business information
Add photos
Reply to customer reviews
Create posts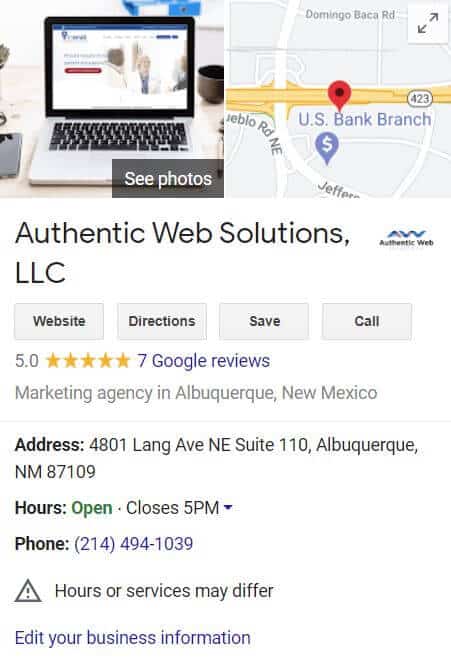 September 11, 2020: Health and Safety attributes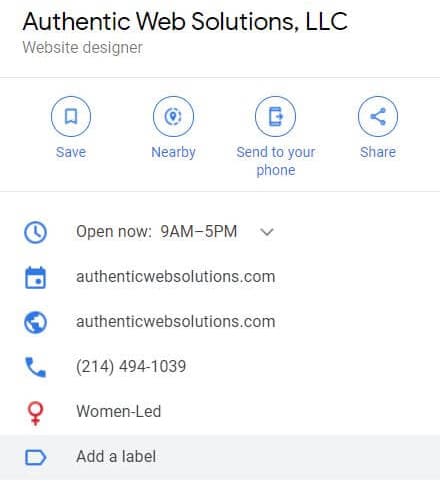 The sanitary measures of businesses are now more important to consumers than ever. Many businesses want their clientele to know that they are proactively working to create a safe experience for them. And consumers are seeking this information out before they decide they are going to patronize a business.
Google added this feature so that food, retail and service businesses could let customers know about what safety measures they are taking.
Safety measure attributes include:
Masks required for customers or staff
Temperature checks required for customers or staff
Appointments or reservations required
In addition to sanitary measures, there are other important attributes you can include in your business listing:
Black-owned business
Woman-Owned business
Veteran-led
Learn how to add or edit your business attributes.
Keeping Up With Google
Google My Business is always evolving so it's important to understand and utilize all the features available to your business.
To keep up with changes, both new and old, Google has several social channels, as well as a blog, that pump out information about everything you need to know re: Google. You can also subscribe to the Google newsletter.
If you have questions about how to make changes to your Google My Business listing or need assistance getting started, we're happy to help.
And if you are more of a do-it-your-selfer, these videos, straight from Google's mouth, will surely help.
Get Your Local Business on Google Search and Maps – Part 1
Get Your Local Business on Google Search and Maps – Part 2