It's the beginning. The place where it all starts. That's right, baby. It's the TOP of the Marketing Funnel.
You want to attract leads, and this is where the customer journey with you begins, and hopefully continues, in the sales funnel model.
At this stage, the probability of sales is still uncertain. Perhaps, just as uncertain as you are about what a TOFU is. The potential client's curiosity is high right now, so it's all about getting to know you and your brand.
Let's break down some basics.
What is ToFU?
Your marketing sales funnel has three stages:
The Top of the Funnel  (TOFU)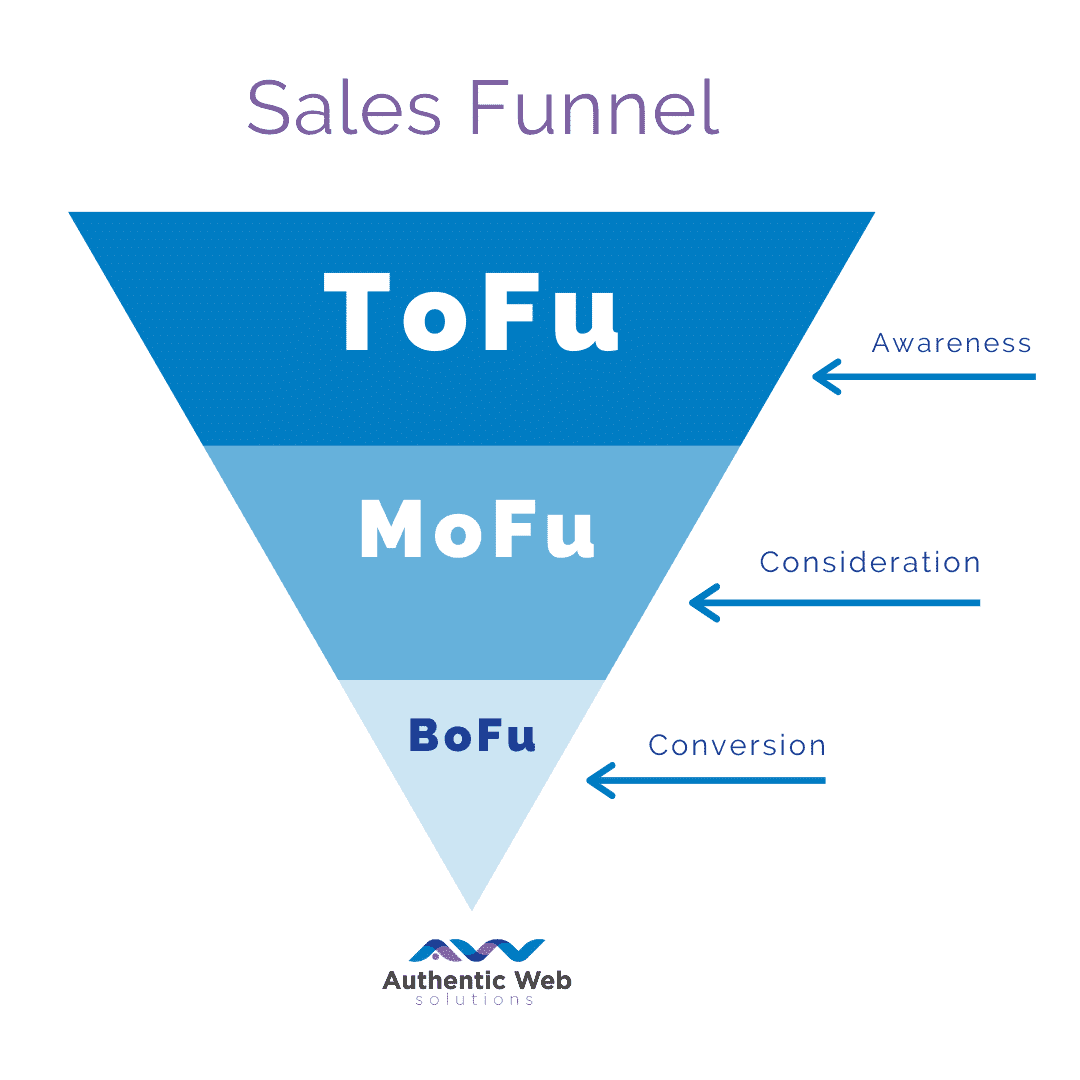 The top of the funnel is simply the awareness stage that includes a large pool of unqualified leads.
The buyer isn't fully aware of your product or business but would like to know more about how you can help them solve a problem. They are getting to know you. Like a first date!
At this point in the sales funnel, you'll be interacting with the widest audience of potential clients.
However, this stage contains many leads that aren't sure about a long-term commitment.
How the Top of the Funnel Works
So, let's say you are out to dinner on a first date and they propose to you before the appetizer comes out. What would be your reaction?
(Check, please!)
At the TOFU stage, if you are already trying to close on a sale, your prospects will quickly be turned off. This is not the stage for coming on too strong. So chill out — treat this time with care and finesse.
The first step should be about building trust by providing your leads with educational and informative content. You'll want to offer them answers and solutions.
Finding the right content at the TOFU stage should be among your top priorities. During this funnel stage, your content should attract and keep the attention of your prospects.
Top of the Funnel Content Strategy
In this early stage of the relationship, it's all about getting to know each other and fostering some level of trust. You are not trying to convince someone to make a purchase at this time. You are offering them genuinely useful information that can help them while at the same time demonstrating your expertise.
Content at the top of the sales funnel needs to accomplish three key things:
Capture your prospect's attention
Demonstrate how your business can fix customer problems.
Create a lasting impression
Content that supports this mission is what you'll need to get these potential clients to move on down to the next step of the funnel (MoFu, or the Middle of the Sales Funnel).
ToFu Content Types
Informative Blog Posts
Blogs are a great way for you to showcase your expertise and solidify your company as a subject matter expert in the eyes of your prospect. Truly informative information, combined with some search engine optimization (SEO), can help you get your brand in front of the right person.
Webinars
The format of webinars and the content that can be included makes them appropriate to use at any stage of your buyer's journey. At the top of the funnel, webinar content should focus on best practices, industry trends and tips and tricks that illustrate your subject matter expertise. They are great for lead generation and give you a chance to interact with your potential client.
Emails
It's all about getting that subscription and getting them signed up to learn about your world. Putting a sign-up form isn't really enough; these days. Offer your website visitors an informative download or checklist for signing up. Then, continue to nurture the relationship with a series of emails that helps them get a better understanding of what your business does, and again, how you can help them.
Videos
Social Media Week reported that "Viewers claim they retain 95 percent of a message when obtained via video." That's a big deal if you want people at this stage of the funnel to remember your brand. Creating informative videos about your business can help convert more leads to the Middle of the Funnel (MoFu) stage. Like webinars, this is a great chance to share your expertise, offer helpful tips and educate.
Search Engine Marketing (SEM)
Search Engine Marketing can yield fast results. Increasing brand visibility and website traffic is just what you need at the top of the funnel stage. The ability of this kind of paid advertising to target specific audiences increases the chance that the leads you are getting are better qualified, and more likely to convert.
Social Media Ads and Posts
Social Media should be a no-brainer. Leverage the social media platforms that your targeted buyer persona will use and send out information that genuinely informs them.
Podcasts
When done right, podcasts have the potential to build a dedicated audience and subscriber list. Podcast hosts are influencers. The trust and connection they make with their audience is an important step to taking the next step in a sales relationship.
Influencer Endorsement or Partnership
Most of the time, influencers already have the attention of your prospects. Find an influencer that can help you with product advertising or endorsement. Find someone that fits your company image (and has a large following!).
Get Started at the Top of the Funnel
You've got to start somewhere if you want to attract customers. And the Top of the Sales Funnel is it – the time when you want to attract and build awareness of your business with potential customers. It's not a time to be pushy, but you'll want to take a gentle, top-of-mind approach so you can build that much-needed trust, and move your lead to the middle stage of the sales funnel.