So you've managed to keep the interest of your prospective client. This is the Middle of the Sales Funnel (MoFu)!
Your wooing methods at the top of the marketing funnel have piqued their interest and they want to know more about your company. They are considering you more closely.
So let's take a look at how this stage fits in with the rest of the sales funnel, and what you can do to make the most of it.
The Sales Marketing Funnel
We went into more detail about this in our blog, so go read it if you want a heavy scoop of information: Marketing Sales Funnel Explained: What You Need to Know.
Your marketing sales funnel has three stages:
The Middle of the Funnel (MOFU)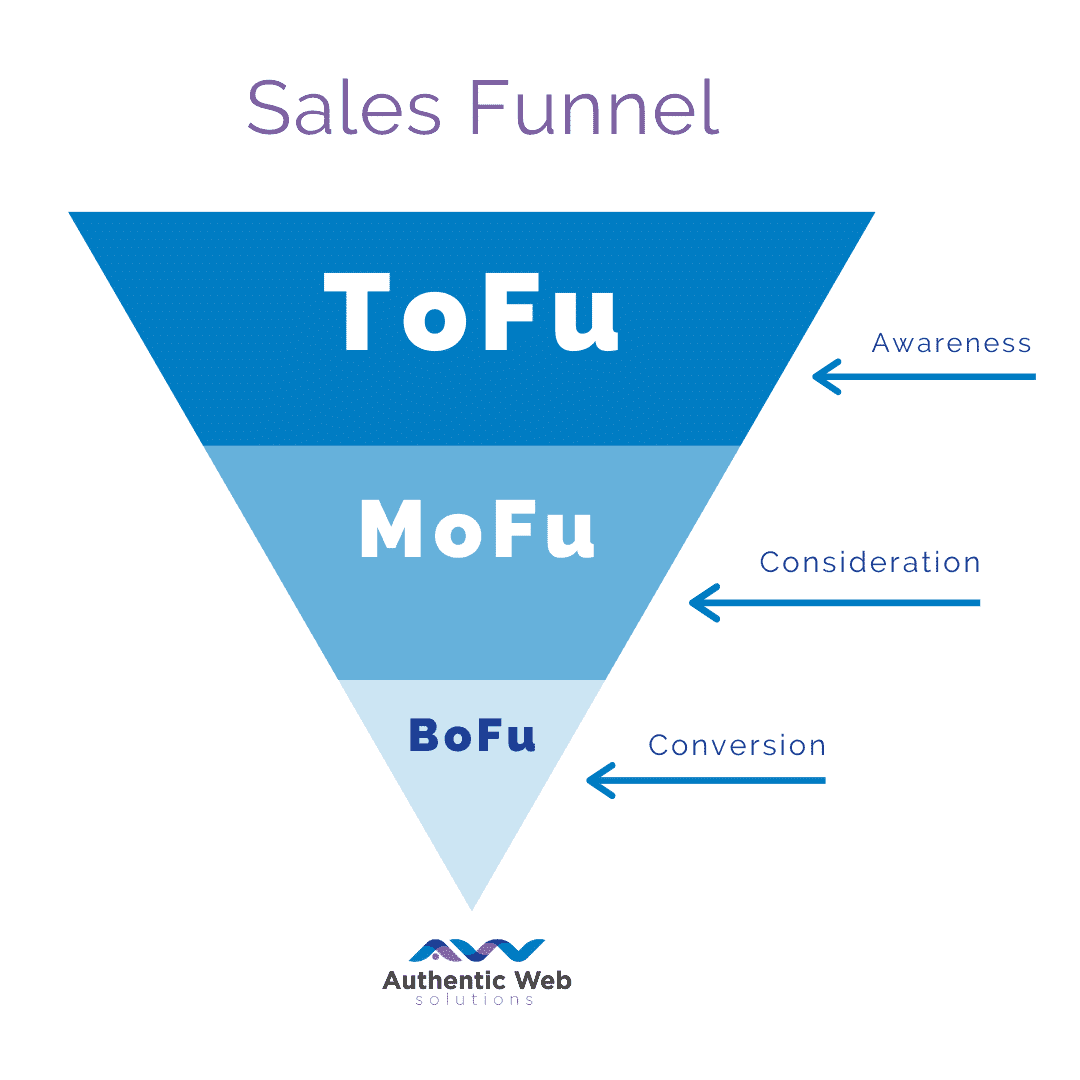 What is the Middle of the Sales Funnel?
At this point, your potential customers are entering the consideration stage. They have moved from the Top of the Sales Funnel (ToFu). The farther down the funnel your leads get, the more qualified they will be. And a significant number of prospects will have dropped out.
The buyer is more aware of your product or business. You've managed to keep their attention and pique their interest, (Kudos to you!) so let the wooing commence.
This is a fantastic time to take a nice hard look at what you can do to keep your prospects engaged and evaluate what didn't work in the ToFu stage. What made your prospect take a hard pass on your business?
But keep in mind that you haven't sealed the deal quite yet.
The MoFu is a Turning Point
This stage stands between interest and commitment. Leads in the middle of the funnel are still researching all the possible ways to solve their problem. They are getting closer to making a purchase. So now's a good time to continue to work on building their trust.
Although the middle stage may not feel as important as closing a sale, the middle stage signifies a major turning point in the sales process. After becoming aware of your brand, customers may fall back to the ToFu stage if they feel pressured or overwhelmed by slick or disingenuous sales tactics.
The middle stage requires a more gentle approach. So, create content that effectively sets your potential future clients up to make a decision.
How do the Middle of the Funnel Works
This is a time for creating trust.
As in most areas of life, genuine trust takes time to build and trying to force it is enough can cause a prospect to retreat and run.
In sales and marketing, one of the most effective ways to build trust is through education. One of the most powerful ways to educate prospective customers and build trust is by creating engaging content.
Middle of the Funnel Content Strategy
Content at each stage of the funnel differs from the messaging you've seen earlier on in the Top of the Funnel. Some methods (like webinars or videos) can be leveraged for each stage of the funnel, but their message should be approached differently.
You can't use the same old messaging. They've seen this already. Don't be a bore.
Like, say, if you've been dating someone for months, you wouldn't introduce yourself to them. You've already taken care of that, so to do that at this point would be weird.
They already know a lot about you at this point, so it's time to grow your relationship with the potential client.
MoFu Content Types
Let's take a look at the kind of content you might find in the middle of the funnel.
Case Studies
If you want to show your potential client what you do and how well you do it, case studies can be a great tool. They allow you to use a business experience you've had working with other customers to demonstrate how you addressed a problem, how you solved it, and the (hopefully awesome) result of the solution.
Check out this page if you want to see a few examples of case studies.
Fact Sheets
Just the facts, please. Unlike case studies, Fact Sheets get right to the point. These are quick, streamlined demonstrations of your knowledge of the problem they are trying to solve, and how you can make all of their dreams come true.
Demo Videos
Video can be a powerful marketing tool at any stage of the sales funnel. And they are great for the prospect who needs visuals to get the message driven home. With videos, you have the opportunity to be both informative and promotional.
White Papers
White papers give prospects the answers they can't find elsewhere. They are heavy on stats and data. Think of them like research reports that demonstrate your savviness on a unique topic.
eBooks
In the middle of the sales funnel, eBooks can be a great way to further your relationship with your lead. Show them you care.
Like white papers, this content provides a deep dive on a certain topic related to your business that can help them in their evaluation of your company.
Webinars
You may have leveraged the power of the might webinar at the top of the funnel. And guess what? You can whip out a webinar in the MoFu stage too. The format of webinars makes them great to tailor your messaging for clients at any stage of the client relationship.
Product Guides/Descriptions
Product guides are a great way to show your clients your solutions. They provide prospects with a clear idea of what it's like to work with your product. Much of this info may already be on your website.
Get Prospects into the Middle of the Funnel
Knowing the basics of the sales funnel, and the content specifics of each stage are integral to forming a comprehensive marketing plan that takes customers from the ToFu stage to the BoFu stage.
Things won't happen overnight. Trust building, patience and great content will ultimately lead to not only one sale, but an established relationship that results in repeat business.