So your prospective client has found themselves at the bottom. It sounds like it could be a scary place to be, but when you're talking about marketing sales funnels, it doesn't mean all hope is lost.
Your lead has reached the bottom of the sales funnel (BoFu) and at this point, they've done their homework. They've examined and scrutinized several companies to see who has what it takes to help them do whatever it is that they need to do.
Did your company make the cut? You'll find out at the end of the BoFu stage.
Let's get deep, shall we?
The Sales Marketing Funnel
We went into more detail about this in a previous blog, so go read it if you want big details: Marketing Sales Funnel Explained: What You Need to Know.
But here's the short version:
Your marketing sales funnel has three stages:
The Bottom of the Funnel (BOFU)
Like any functional funnel, your sales funnel starts with a wide entry point that steadily becomes more narrow toward the bottom. Check out this graphic if you want to get visual.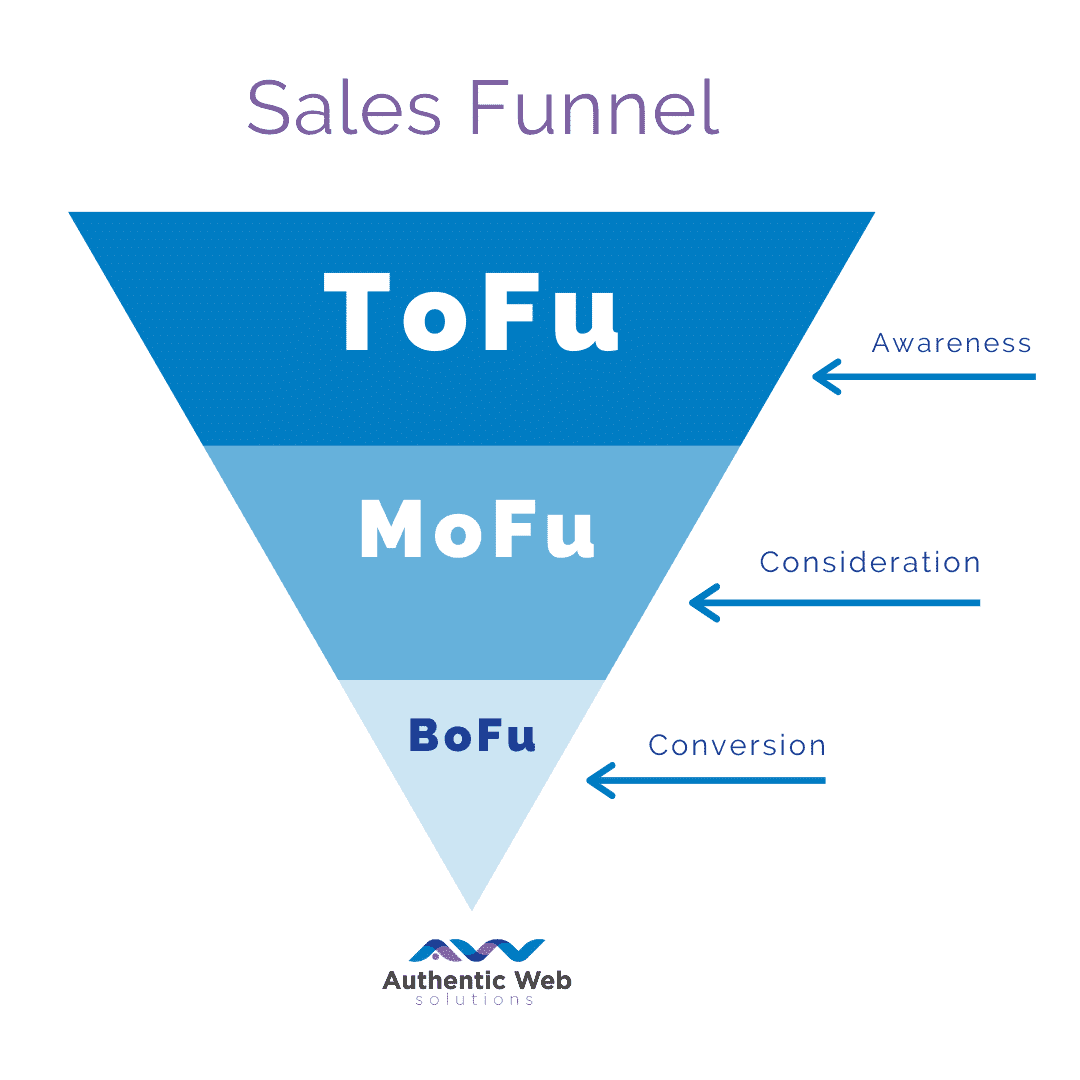 As leads go through the funnel, they get more information from you that will help them determine if they want to commit, or if they plan to run from you like you're a stage-five clinger.
What is the Bottom of the Sales Funnel?
The bottom of the sales funnel is the narrowest part. This is considered the conversion stage—many leads may have already trickled away, but the ones who made it this far are closer to closing the deal.
Prospective customers in the BoFu stage are highly motivated to buy since they have had much time to contemplate their needs and your solutions in the Middle of the Funnel stage.
Your leads are ready to make a decision and it's your job to guide them toward choosing YOU.
Bottom of the Funnel Content Strategy
Since the audience you are working with at this stage of the funnel has narrowed significantly, you can be specific with the leads about why your product or service is the best fit for their needs.
Get persuasive. Create unique messaging. Be direct.
Show them why you are better than the competition and solidify your relationship by giving them the confidence they need to sign on the dotted line.
BoFu Content Types
As we've previously mentioned, some content formats, like webinars and videos, can work at any stage of the funnel. The messaging will differ, though. 
Use some of these types of content at the bottom of the funnel:  
Vendor Comparisons
How does the competition fair against you? Do you have more experience? More employees? More awards? It's time to get braggy and show your advantages over the enemy your competitors.
Live demos
Show how your product works. And also, how you work.
Free or reduced-price trials/courses
Who doesn't like free stuff?! Give your lead a taste of what you offer. If they like the free version, they might just be willing to pay for the full product.
Consultation
At the bottom of the sales funnel, your lead probably has specific questions and is ready to talk with you. A consultation can help them finalize their decision.
Success Stories
Testimonials and case studies from real customers can provide the ultimate, real-life example of how your product has made a difference to buyers. Talk about their problem, your solution and the end result.
User-Generated Content
Do people love your product? Are they leaving reviews on and sharing their love for you on social? Gather all of this and package it up to demonstrate your loyal fan base. It could be the tipping point that sends your lead from the bottom of the funnel stage into a long-time customer.
Brochures/Downloadable Content
Any of the above items can be packaged into nice, neat little PDFs that can be downloaded straight from your website, or handed out in that final meeting before you (hopefully) close the deal.
And remember: You need to continue to build trust with prospects at this stage because even if they don't decide to go with your company, you just never know if they may seek out your services again.
Leaving a warm and positive impression can go a long way in increasing your chances of converting them into future loyal customers.
Get Prospects into the Bottom of the Funnel
The journey from the top of the funnel to the bottom is not always a fast one. BUT! If you've made it this far, it could be a good sign.
Just keep your cool and don't get pushy. The deal may be closed before you know it.