April is National Humor Month so what better time to think about how companies and brands can incorporate a little humor into their communications and marketing.
Whether it's through email marketing, videos, or even website copy a little levity can help humanize an organization and add a spark to otherwise dry copy.
To help get a feel for how different organizations handle humor we've rounded up seven fun and funny examples for you. Why seven? Because it's a lucky number and that's just how we roll.
1. MailChimp – MailChimp has always had a sense of humor. It would be hard not to with a name like MailChimp, right? Inspired by their name, they launched a campaign based on similar-sounding names and versions of their name such as MaleCrimp.
2. PooPourri – If we are going to explore using humor as a brand, we'd be remiss if we didn't include a little potty humor. The top of the category (in our opinion) for that is PooPourri. They exploded (pun intended) onto the potty scene with their witty commercials using double-entendres, alliteration, a woman with a high-society English accent, and more. Watch the original video yourself. We do recommend that you not drink anything while watching. We don't want you accidentally spitting on your screen.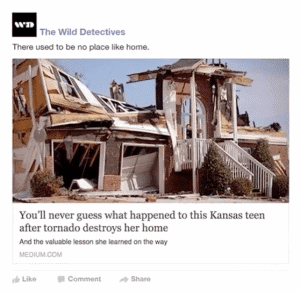 4. The Wild Detectives – Now before you start thinking that humor is primarily for bathroom brands, we've got something completely different. How about a bookstore? Granted, the Dallas-Fort Worth-based bookstore isn't your standard bookstore as they call themselves a bookstore bar venue. They've taken the same unique approach to their social media with the creation of their Litbait, a way to "troll people into reading classic literature."
5. ITV – The British television network got into the fundraising for charity act with this parody of their popular series Downton Abbey. It didn't hurt that they inserted a few unexpected American actors, such as George Clooney, to help out.
6. Heart and Stroke Foundation – Not all humor is bust-a-gut laughing. Sometimes it is simply taking a different approach than what is expected. The Heart and Stroke Foundation used the latest pop culture craze about zombies to educate people about cardiac arrest.
7. Calgary Humane Society – Our last example is a doozy. This nonprofit blows it out of the water with their witty take on the stereotypical used car ad including the mustached salesman. Only they are selling cats not cars. Take a peek at this one and tell us you didn't at least chuckle inside
Before we wrap up, we'd be neglectful if we didn't mention that obviously humor is very subjective. Sometimes brands get it wrong and it backfires. However, with a little planning and care, adding some humor can be a powerful tool for your marketing efforts.