North Texas Pediatrics had a website challenge – they wanted to showcase their physicians while also providing their site visitors – parents looking for top-notch care for their little ones – with the tools and resources they needed to receive the very best in children's healthcare in the Dallas area.
But the kids' doctors' online image didn't match the level of excellent care they had to offer. An outdated website featuring a stock art train image, low-resolution images of the doctors and a clunky, hard-to-use navigation didn't do their practice justice.
The previous site was created by one of the physicians more than a decade ago. Much has changed in web design and usability in the last 10-15 years, so when a new doctor joined the practice, she rallied the other physicians to invest in their web presence.
Here's what the site looked like before the redesign: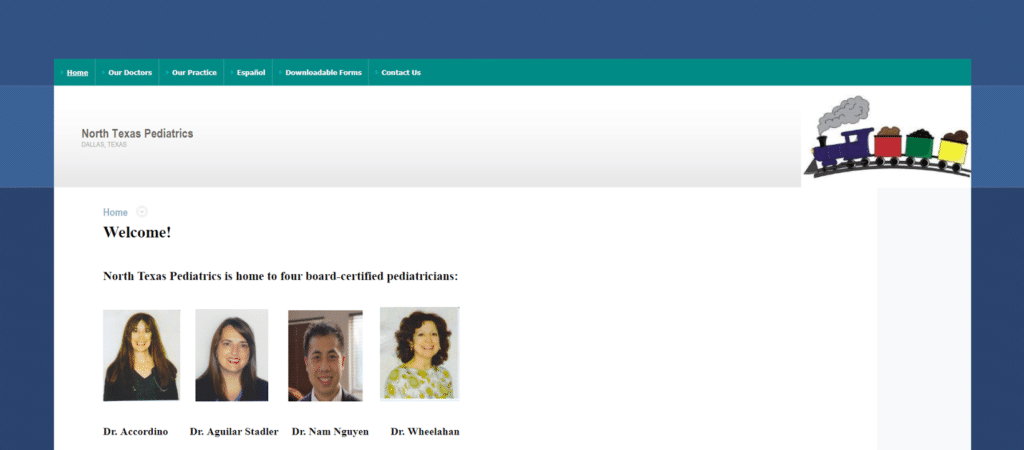 The Dallas-area doctors needed a better way to introduce their five pediatricians to parents. They turned to local website design and development company Authentic Web Solutions to help accomplish their goals.
A complete website redesign and brand facelift were needed to bring the kids doctors' online presence up to date. Authentic tossed the starchy serif font, added large, captivating images, lightened and brightened the color pallet, and redesigned the logo.
Responsive site design and the ability to view websites on mobile phones was not a huge priority or necessity when the site was first built, but these days, more purchase decisions and healthcare-related research are being conducted from the palm of your hand. Authentic designed a mobile-friendly solution that allows visitors to the pediatric website a pleasant browsing experience, regardless of the screen size.
The result: a colorful, kid-friendly design that effectively captured children's adventurous nature while featuring the physicians of North Texas Pediatrics more prominently, making it easier for parents to learn more about the doctors.
While the doctors needed a solution that delivered in design and function, the ability to keep the content fresh and current was especially important. Authentic's solution gave the doctors control over their site content, giving them the ability to make updates on their own behalves.
To help streamline care, a new helpful resources section was developed to keep patients informed about vaccination schedules and over-the-counter medication dosages. A forms page was built for patients to be able to easily download frequently used documents for registration, the office privacy policy and records request forms, helping the practice reduce paper waste, and more importantly, the amount of time parents spend in the waiting room filling out the forms.
The Dallas, Texas children's doctors also wanted to connect with the parents of their patients, who range from newborns to teenagers, while providing valuable educational resources and launched a blog to support this mission (Be sure to check out their first post "5 Goals for Creating a Family Health Plan").
Authentic Web Solutions delivered a comprehensive solution to North Texas Pediatrics that helped them improve their online presence, address the needs of their patients, and streamline their business operations. Learn how the team at Authentic Web Solutions can help you accomplish your online goals.