When you're preparing to redesign your website, it can feel like there are a million things to consider. Here are a few key areas to help you focus on what is most important.
Start Where You Are
Analyze Your Current Site
Before diving headfirst into your new website design, it's important to take stock of where you are. Ask yourself:
What is working on my current site?

What isn't working?

What do I like about my current site?

What don't I like?
Nail Down Your Target Audience
Before you start designing, the other big question to ask is "Who is my target audience?" You need to understand who they are, how they approach things, and what they need from the start of your redesign.
What's going to keep them coming back?

What are the key things you need to communicate to them as soon as they land on your site?

What makes them consider this site in the first place?

What does your customer's journey look like? In other words, what path do they take to get to you, your site, and eventually to conversion?
Begin With the End in Mind
Determine the Purpose of Your Website
Now that you've looked at your current site, it's time to think about the purpose and goals of your re-designed site. Ask yourself:
What is the purpose of your website?

What do I want to accomplish when a new user comes across my site? For example, do you want them to buy a product? Subscribe to your newsletter?

What do I want available for return visitors?
Understand Your Business Goals
Remember to keep the business side of your site in mind as well. Ask these questions and then apply the answers to your redesign:
What are your business goals with your website?

What's more important – new visitors/leads, or repeat visitors/customers?
Be Sure They Can Find You
Search Engine Optimization, or SEO, should be in the front of your mind when redesigning your site so that people will see your page in their search. Good SEO makes it easy for search engines like Google and Bing to quickly discover if your site is up and running, regularly updated, and if the content relates to the search keywords being used. Don't underestimate the power of SEO and risk losing traffic to your site.
Check the traffic levels on the various pages of your site.
Which pages are the most visited?

What information is contained in those pages?
Keeping tabs on these statistics can help you discover what is and isn't being utilized on your page . Use this information in your redesign so that you don't eliminate content that's already performing well for you.
Be Approachable
Mobile-Friendly First
Modern web design takes a mobile-first approach, and with good reason. More than half of your website visitors will be on a mobile device – either a tablet or smartphone. If a user has found your site on their mobile device, are they going to be able to easily navigate through it to find key information? Or will desktop-only features hinder them and waste their time? Everyone should have a pleasant experience on your site. In the process of your redesign, keep a mobile-friendly approach first, followed by your desktop version.
Flow and Organization
The flow of your website is incredibly important. How many times have you left a site in frustration because you could not easily navigate or find what you were looking for in the first place? Ensure that your content, menus, and posts make sense and are easy to access through simple clicks. Concise and simple is always best.
Look and Feel
This is the fun part of your redesign. Here, you get to decide how your brand colors, messaging and images are going to represent your brand. The personality of your brand, whether adventurous, serious, silly or creative, should shine through.
However, always keep the user in mind. Too many large images can be overwhelming and can also slow the site performance. Enjoy the process, though, and make your site something you and your clientele will love.
Ready for a Web Redesign?
You have to understand and evaluate where you're at today before you can decide where you want to go in the future. Jumping into a website redesign without thinking through the questions outlined here will only delay your project and potentially impact the quality of the end product.
Are you thinking about a website redesign? Or even starting a new website from scratch?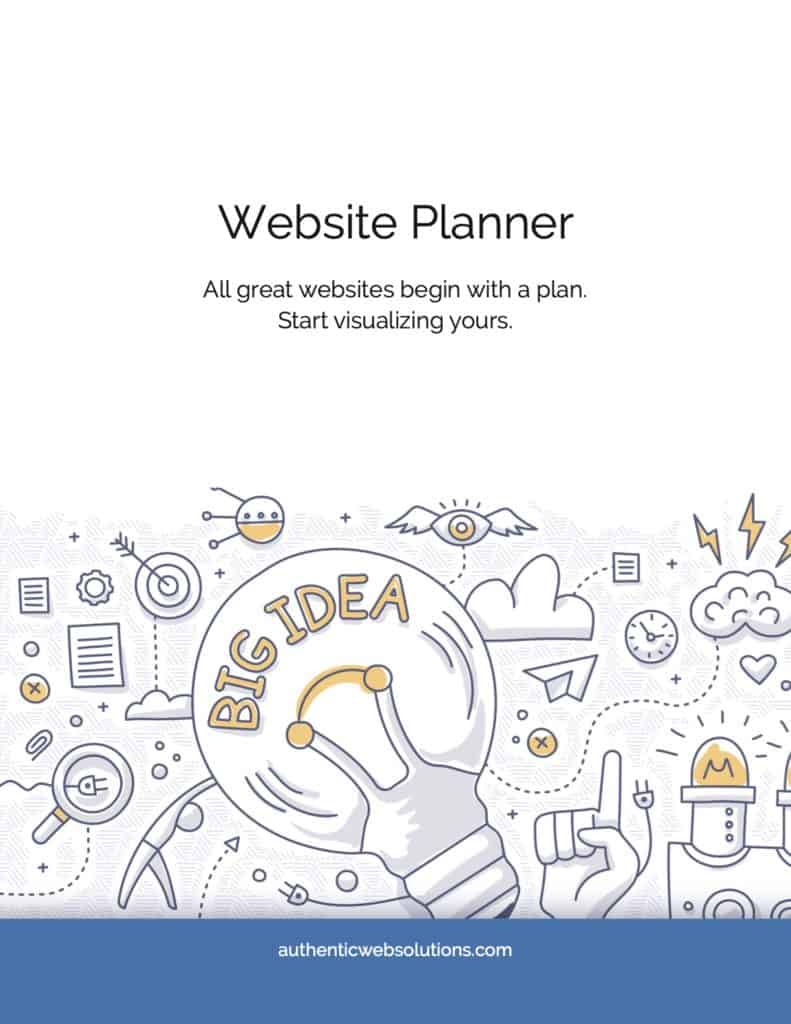 Download our website planner.